Carry On Luggage Restrictions
Allowed Size Of Carry On Luggage
All air travelers need to be aware of their carry on luggage restrictions, as it can be both inconvenient and costly to exceed them.
The baggage allowance varies greatly between airlines, which can be challenging if you are travelling with more than one airline in one trip - or with different airlines on regular basis. You will then have to make sure your luggage does not exceed the lowest airline luggage weight limit, i.e. to avoid extra charges by the other airlines.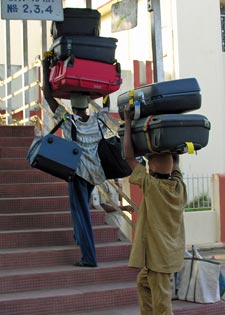 Sir, too much carry on luggage?
Carry on luggage restrictions do not only vary between airlines. They can vary between different classes and routes as well. The baggage allowance is usually more generous on business and first class than in economy class.
The carry on luggage restrictions can also be different if you are flying on domestic or international flight. This is usually because domestic planes are often less spacious than planes used on long haul or international routes.
Then again, the allowed size of carry on luggage can even be different depending on which international flight you are on, for example if you are flying within Europe or on transatlantic flight.
You might want to take special care if flying with low cost airlines as they tend to be very strict on their carry on luggage restrictions and their charges for exceeding the limits tend to be high.
It is not only the carry on luggage restrictions that you need to be aware of, you also need to make sure your check in bag does not exceed the Check-In Luggage Restrictions.
Carry On Luggage Dimensions
Most airlines allow each adult in economy class to take one free carry on luggage and one free personal item, like handbag or laptop case.
There are however exceptions. Some airlines consider laptops in thin satchel to be personal item but carry on luggage piece if they are in larger computer bag, i.e. in wheeled laptop case. In addition, some airlines, especially the low cost airlines, do only accept one piece of hand luggage and are very strict on this rule.
Spinner Luggage is very popular as hand luggage. Their biggest benefit is how easy and effortless it is to maneuver them in any direction, reducing the strain on your arms and back
Airlines carry on luggage restrictions vary greatly between airlines. The most common carry on luggage dimensions are 22 x 14 x 9 inches (56 x 36 x 23 cm), i.e. based on our survey of the 24 major airline carriers listed in the table below.
Most airlines also state the combined carry on luggage dimension allowed, i.e. the figure you get when you add all the dimensions together (length + width + height). In the most common case that figure would be 45 inches (22 + 14 + 9), or 115 cm (56 + 36 + 23).
Many airlines have the same combined figure, 45 inches is for example the most common combined carry on luggage dimension. However, the allowed length, width and height can vary, as shown in the table below.
Most airlines allow variations in the individual dimensions as long as when added together they do not exceed the combined figure. However, few airlines are very strict that individual dimensions do not exceed their guidance. Therefore, you should always check your airlines carry on luggage dimension policy prior to flying.
Top Carry On Luggage Restrictions Travel Tips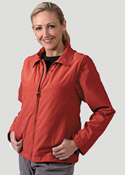 Have you ever considered wearing your Carryon Luggage?
There are many benefits carrying your personal belonging on you when travelling.
It is convenient as your hands will be free.
It is safer as you will not have to worry about any hand luggage, as well as the locked inside pockets act as prevention against pickpockets.
Most airlines also issue maximum carry on luggage weight limit. This limit can vary greatly between airlines, commonly between 5-18 kg. Usually the US airlines are more generous in this respect.
Airlines are increasingly paying more attention to the weight limits so do check both the carry on luggage dimension and weight limits with your airline and do not exceed either to avoid inconvenience and extra charges.
The following table shows the carry on luggage dimension and weight limits for 24 major air carriers we surveyed for this. These carry on luggage restrictions are based on international flight in economy class (n/a means no information was found on the relevant website at the time the table was last updated).
If you click on the airline name in the table, you will go directly to that airline baggage information. You should always check with your airline prior to packing your bags, i.e. to make sure that no changes have been made to their carry on luggage restrictions and to find out if there are any exceptions that you should be aware of.
Last Updated: 10th January 2013
Most airlines also follow these (or similar) general carry on luggage restrictions rules:
The allowed carry on luggage dimension include the handle, pockets and wheels
You should be able to fit your hand luggage in the overhead locker or underneath your seat (or the seat in front of you)
You must be able to lift the bag into the overhead locker unaided
Your cabin luggage may not include any dangerous goods (most airlines list information about this on their websites)
You must comply with applicable laws and security measures including those imposed by airports authorities
There are many different types of Carry On Luggage available, there are trolley cases, spinners, roller cases, garment carriers, totes, duffel bags, mobile offices... whatever type you prefer, it must fit within the carry on luggage restrictions.
Top Carry On Luggage Restrictions Travel Tips
Most airlines offer size check unit (or bag gauge) in the check-in area, which your hand luggage must fit in. You will have to check that your hand luggage does not exceeds the allowed carry on luggage dimensions. There might even be a fee for doing so, i.e. if exceeded your check in baggage allowance.
Some airlines state that your hand luggage must fit easily into these size check units, so avoid stuffing your cabin luggage. You might also want to view the carry on luggage dimensions in the above table as it shows the maximum dimensions allowed. If you current carry on luggage is bigger you should consider buying a smaller cabin luggage for your travels.
Buying Luggage On-line
Check our Luggage Shop and browse our selected range of quality luggage from leading online retailers.
In our showcase shop you can browse for different luggage types and see the current prices.

If you prefer to shop via Amazon, why not visit our Amazon US or Amazon UK stores. Just click on the country flags below and browse or search for your new luggage.