Travel To Malawi
The Hidden Gem In Southeast Africa
Travel to Malawi was not on our original round the world tour agenda. However, the plan was to visit the Victoria Falls at some point and Malawi was kind of on the way, i.e. between Tanzania and Zambia.
So we decided to visit Malawi despite knowing almost nothing about this country. To add to the adventure we were unable to find any travel guides in English before going there (this was in the ancient 2006, before Kindle and iPads).
Driving In Malawi
Along Picturesque Lake Malawi
We started our travel to Malawi with couple of days in Lilongwe, the capital of Malawi. At the hotel, we managed to borrow Malawi guidebook for few hours from a fellow tourist and quickly draw up our travel plan.
We decided to rent a car, drive along Lake Malawi for few days, and then go for few days on our first African wildlife safari before heading over to Zambia.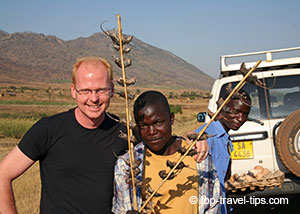 Malawian delicacy
Must admit We chickened out of trying it
Pleased with our travel plan we went along and rented a car. The plan was to leave early in the morning but the car was delivered few hours too late.
During our inspection of the car we discovered that the spare tire was flat and the road tax unpaid, so we had to wait (again) for replacement car.
We had just made a turn into the main street when the driver's side mirror fell off and broke into pieces. Again it took few hours to get that fixed.
It was therefore late afternoon when we finally left Lilongwe. Of course, we should have stayed there until the next morning but we were eager to get going. We therefore decided to go to the next town, just outside Lilongwe and stay there for the night, ready for an early start the following day.
To cut a long story short, our map of Malawi was very rough (to put it mildly), we got lost and ended up driving long way in the dark until we finally found some accommodation and food. Let say it was basic... but it was food, bed and shower, all for less than $5.00.
The following day we continued our drive north. On the way, we decided to stop for a coffee at a lovely hotel in the mountain. We liked it so much we decided to stay there for couple of nights.
The first day we went for a short hike and watched the sunset on a beautiful sightseeing spot. The sunset in Africa is magical. We have never seen so many amazing sunsets and sunrises.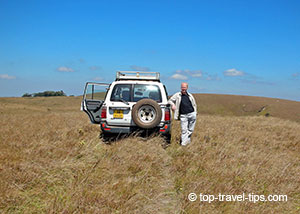 Truly an off road driving experience
The following day we went on a day trip with the owners of the hotel. It was truly an "off road experience". Birgir was doing the driving and did amazingly. The road was hardly visible for big part of the journey.
The view at the top was however worth it. It was fantastic day in the unspoiled Malawian countryside.
We then spent two days driving south, exploring the local life in Malawi on the way. Malawi is among the least developed countries in the world and very densely populated. Vast majority of the population, or around 85%, lives in rural areas.
Driving in Malawi is therefore bit surreal experience. The main road ("highway") sometimes feels more like pedestrian street, there are more people walking on the road than cars.
Top Travel To Malawi Tips
The poverty can be hard to witness when you travel to Malawi. Foreigners are often approached, asked for money or gifts. Our view is that it is better to give to some local charity rather than handing out money on the street. Wherever you go, it is easy to find good local or international charities to support instead.
Tourism also helps the local economy but it can still be difficult to ignore the pleas. Consider buying some souvenirs or services, rather than hand out money or gifts in the street. It will only encourage this behavior, which can backfire in the end, with tourists end up staying away.
Liwonde National Park
Our First Visit To African Safari Wildlife Park
No travel to Malawi is complete without going on a safari. We love animals, outdoors, adventures, and photographing so we were very excited about our first visit to a real African Safari wildlife park. The Liwonde National Park is on the east bank of the river Shire, at the southern end of Lake Malawi and borders Lake Malombe.
The magnificent African Fish Eagle
The Liwonde National Park covers 212 miles² (550 km²) and the best time to visit is during the dry season, when the animals gather around the river to drink.
The dry season (April to November) is also very comfortable time for us humans. We visited in August, which was lovely time to travel to Malawi.
The weather was really comfortable despite June and August being classified as the cooler months.
This Malawi safari park offers nice first impression into what African Safari wildlife parks are all about. The park offers very scenic game viewing. The landscape and flora is very picturesque, including the magnificent Baobab trees. The river Shire is also a magnificent backdrop for sunrise and sunset.
The Liwonde National Park is best known for its' large herds of elephants and great variety of birds. The park is generally considered one of the best places in Southern Africa for bird watching.
You are likely to spot various other animals as well, like hippos, crocodiles, warthogs, antelopes, kudos and monkeys. Liwonde National Park is though not the right place to see all the Big Five, i.e. lion, leopard, elephant, rhinoceros and buffalo.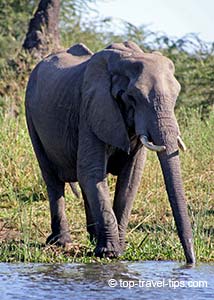 Liwonde National Park is well
Known for big herds of elephants
The phrase Big Five refers to the African animals considered most difficult to hunt on foot.
Some of the biggest African Safari wildlife park allows you to see all of them... if you have enough time and patience. The leopard tends to be the most difficult to track down.
We stayed in Mvuu Lodge. It was the only accommodation in the Liwonde National Park and is situated in a lovely scenic setting.
African wildlife safari is never cheap but we got our Malawi safari at what we considered reasonable price for what was included.
We went on organized jeep safaris with highly qualified guide. Good guide is very important for your African wildlife safari to be successful.
Good safari guide knows where and when it is best to find the animals and they will spot animals you would be unlikely to spot on your own.
Liwonde National Park specialty though has to be the river safari trips. You can get closer to many animals by boat, including big herds of elephants (though we met one that was not to happy to see us... see slide show). We also got really close to the amazing African Fish Eagle (Malawi's official bird).
We later went on number of others African wildlife safaris, including self-drive safari in Namibia. We enjoyed every one of them enormously, they were all different, but all offered something extra ordinary.
Why Travel To Malawi
Malawi is beautiful country that offers visitors wide range of things to "do and see". Malawi is also still relatively "off the beaten tourist track", for those that prefer that.
Travel to Malawi highlights includes going on African wildlife safari and Lake Malawi. Travel to Malawi and you can enjoy game viewing, swimming, fishing, canoeing, bird watching, stargazing, taking photos or just relaxing under the African sun.
Top Travel To Malawi Tips
Good camera with good zoom lens is vital when going on African wildlife safari and you need good Camera Bag to protect your camera gear from the elements.