Travel To Iceland
The Dramatic West Fjords
When we travel to Iceland, our main purpose is to visit our family and friends back "home". However, we take every opportunity we can to travel in Iceland, because the Icelandic countryside means so much to us. It is part of our heritage.
Luckily for us, we can always persuade some friends or family members to join us on our mini Icelandic vacations. Like few years ago, when we travelled with a group of good friends to the southern part of the West Fjords in Iceland.
West Fjords Iceland Map
This Iceland Map shows the route we took. We began our trip in Reykjavik, the capital of Iceland. We spent the first night in one of our friend summerhouse just outside Borgarnes. We then we took a small ferry trip to the small island Flatey were we spent one night.
When we reached the West Fjords Iceland, we had an accommodation in Tálknafjördur for few nights and explored the surroundings from there, including Selárdalur (hike), Látrabjarg (cliff), Rauðisandur (beach) and Dynjandi (waterfall).
Travel To Iceland And Step Back In Time In Flatey
Flatey is a small island (about 2 km long and 1 km wide). Most of the houses on the island have been converted to summerhouses and most are occupied (or rented out) during the summer months.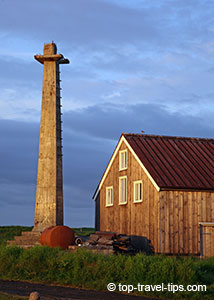 Flatey is like stepping back in time
Only handful of people lives on the island all year around.
There is a small hotel for tourists that want to stay overnight, but many tourists arrive with the ferry for a day visit (usually on their way to the West Fjords Iceland).
Flatey means flat island and that's what it is. However, on a good day, the West Fjords mountain range is clearly visible from the island.
Staying in Flatey feels like stepping back in time. The pace is slow, the houses are old, and the people are relaxed.
The smell of the sea is refreshing and the sunset on a good evening is magical... that is if the sun goes down at all.
During midsummer, there is 24-hour daylight in Iceland.
We had a lovely stroll around the island. It does not take long but there are number of interesting things to see and do on the way.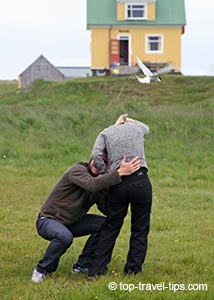 The Icelandic Vikings
Are well known for their bravery!
The small church is lovely and the interior is different, huge paintings with scenes of the island's life and some of the inhabitants (as well as of the painter himself and his son).
We were in Flatey in the beginning of July and the Arctic Tern can be very aggressive at that time of the year.
It also means the sun just touches the horizon and then goes up again.
We were very lucky with the weather and stayed outside, enjoying the refreshing sea air, beautiful sunset and great company.
For us, things to do in Iceland do not include swimming in the sea but some of our friends did not agree and went for a midnight swim.
Let's say they slept like babies (which we also did, except we were warm and comfortable).
Travel To Iceland Should Include Some Hiking
Hiking is among the great things to do in Iceland. There are fantastic walking trails all over the country and the West Fjords have their fair share of great walking routes.
The women in the group went for a day hike from Selárdalur back to Tálknafjörður while the men went sea fishing.
Before going on our hike, we stopped to see Samuel Jonsson work. Samuel (1884 - 1969) lived all his live in Selárdalur and never travelled outside the valley.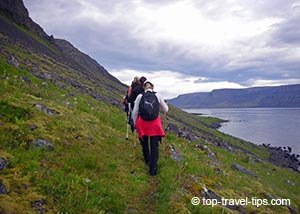 Hiking in Iceland is highly recommended
He made his artwork based on postcards, including model of the St. Peter's Basilica in Rome and replica of a fountain in the Court of the Lions (Patio de los Leones) in Alhambra in Spain.
Samuel was often called the "artist with heart of a child". His work is unique and well worth visiting if in the area.
Our hike was great. The mountain view is spectacular and you can't help thinking about the people that struggled to live in this harsh environment over the ages.
It is lovely on a sunny summer day like the one we had but it is easy to imagine how it must have been on a snowy winter day, before electricity and techno clothes...
Top Travel To Iceland Tips
The most famous hiking route in the West Fjords of Iceland is Hornstrandir. This walk is best done in an organized tour if you not familiar with the area or the Icelandic climate.
We haven't done this walk yet but many of our friends have and they highly recommend it. We have seen their photos and we believe them.
Enjoy The Long Days When You Travel To Iceland
The great thing about travel to Iceland during the summer is the long days. You can go fishing or golfing at midnight or just sit outside with your friends and enjoy the midnight sun. We did lot of that with our friends during our trip to West Fjords.
Látrabjarg is great for hiking,
Bird watching and photography
There are so many things to do in Iceland West Fjords.
The highlights of the southern part include the cliff Látrabjarg, the beach at Rauðisandur (Nb. Icelandic beaches, not meant for serious sunbathing) and the waterfall Dynjandi.
Látrabjarg marks the western most part of Europe. It is Europe's largest bird cliff. It is 14 kilometers long and up to 440 meters high and with millions of birds, like puffins, guillemots, northern gannets, and razorbills.
You feel really small standing on the top of the cliff and you must be careful.
The views are impressive but the cute puffins tend to steal the show. Látrabjarg is understandably highly rated by bird watchers.
Icelanders say that it sounds like Látrabjarg when a group of people all talks loudly at the same time, i.e. sounds like busy bird colony.
Rauðisandur is a long narrow beach under impressive mountains. The colors and the scenario are great on any day, but some days the colors are just magnificent.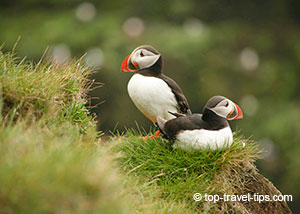 Puffins are so cute and they look wise too
We visited late in the day and the light was not at its' best but it was still very impressive.
There are excellent walking routes in this area, you can actually walk between Látrabjarg and Rauðisandur, which one of our friend had done and she said it was just great.
There are so many impressive waterfalls in Iceland and Dynjandi is one of them. It is actually a set of waterfalls with cumulative height of 100 meters (330 ft). The name Dynjandi means thunderous which is appropriate.
Top Travel To Iceland Tips - Iceland Weather
People don't travel to Iceland for the weather. There is a saying in Iceland... if you don't like the weather, just wait a minute.
The Icelandic weather can change very quickly so you must be prepared for any weather when travelling off the beaten track in Iceland. Snow in summer is not unheard off, nor is sudden gale force winds.
Iceland temperature is low even in the summer months. The average temperature in July (the warmest month) is 10-13 °C (50-55 °F), though it can reach 20-25 °C (68-77 °F). This happens rarely though... Icelandic businesses tend to give people the day off if the Iceland temperature goes over 20 °C.
Luckily, 10-13 °C in Iceland does feel much warmer than 10-13 °C almost everywhere else (don't ask us why!). Icelandic summer days can be quite pleasant but the Iceland weather is always unpredictable so be prepared.
Are You Planning A Travel To Iceland
Are you planning a travel to Iceland or Iceland vacations? Do you got some questions you need answering? Feel free to Contact Us and we will do our best to assist you.
Ps. if enjoyed our travel to Iceland adventures, why not check out our Namibia Self Drive adventures... where we search for desert elephants and meet the beautiful Himba women.