Travel To Easter Island
The Perfect Place To Spend Easters
Travel to Easter Island had been on our travel wish list for long time. Easter Island is however one of the most remote inhabited places in the world so not easily "on the way"... except if you are travelling around the world, as we fortunately did.
We spent Easter week 2007 on this amazing little island and can confirm that Easter Island is the perfect place to spend Easters... or any other time.
Why Travel To Easter Island?
Easter Island, or Rapa Nui in the local language, is most famous for its 887 magnificent statues, called Moai (monolithic human figures carved from rock).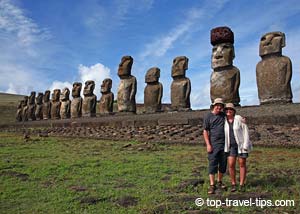 The Ahu Tongariki is the largest
Ahu (stone platform) on Easter Island
The moai statues are good enough reason to travel to Easter Island but this small amazing island has so much more to offer visitors.
The moai statues are never far away though, as they are scattered all over the island but there are so many other interesting and fun things to do and see on Easter Island.
Like hiking or horse riding around the island, swimming or diving in the sea (if in the right season), go surfing and visit the Easter Island museum.
The people are extremely friendly and the culture is fascinating. We fell in love with the island, the people and its' dogs. We would love to travel to Easter Island again sometime in the future.
Few Facts About Easter Island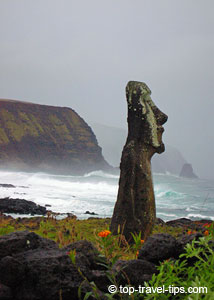 Watching the years
And centuries go by
Easter Island is part of Chile but lies 3,510 km (2,180 miles) west of the continental Chile at its nearest point, making Easter Island one of the most remote inhabited island in the world.
The island is really small, only 163.6 square kilometres (63.2 sq. miles), with population of roughly 5,000 people (2011 estimate).
Easter Island climate is temperate and comfortable most of the year, making it a good place to visit in any season, though the summer months (December to March) tends to be the most popular time to visit.
May to June is the rainy season and you will need windbreaker during the winter months (June-August) as the wind-chill factor makes it cooler than the temperature indicates.
Our Easter Island Vacation
When we first planned our Easter Island holiday, we thought couple of days would be sufficient to see the most famous Moai statues. Our guidebook (Lonely Planet) however recommended not rushing the visit. We took their advice and spent a whole week on this small island during Easters 2007. Wise decision which we didn´t regret.
We flew to Easter Island from Santiago, the flight took about 5 hours. We stayed in a lovely small guesthouse (only 3 rooms) but the best part was though the resident dog (Mitch) that became "our dog" for the week. Mitch ended up coming with us on most of our excursions - we even changed the rented motorbike to a car so he could accompany us!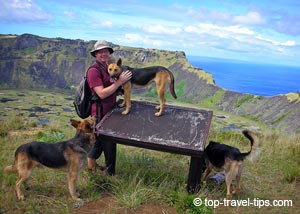 Walking some of the dogs on Easter Island
Actually, if you like dogs, you are quite likely to end up with your own dog when in Easter Island. Lot of dogs roam the streets and tend to adopt a tourist for a day or two.
On our first day we decided to hike up to the top of Rano Kau volcano (324 m / 1,063 ft). Mitch decided to join us on our walk.
We had not gone far when a bitch (in heat) decided to join us as well. She attracted lot of attention and one admirer dutifully followed us (her) the whole day. The fourth dog joined us at the top.
It was a lovely walk, highly recommended. The view on top of the crater is just amazing.
We also visited all the main Moai sites. There is something mysterious and magical about each and every one of them. The Easter Island statues were made between 1250 and 1500. It is easy to imagine them standing there, knowing all the islanders secrets and dreams over the centuries.
The Ahu Tongariki is the largest ahu (stone platform) on Easter Island. It is a row of 15 moai, facing sunset during summer solstice. We visited this awe-inspiring site twice, on both rainy and sunny day. Both times, it was magical.
Rano Raraku is a volcanic crater that supplied the stones that around 95% of the moai are carved from. Around 397 moai remain in the hills of the crater, making Rano Raraku a truly remarkable place to visit.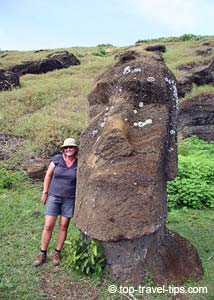 Giant moai heads are scattered
All over the Rano Raruku crater
There are giant moai heads scattered all over the place. Wandering between them is a bit surreal experience, like being lost in the land of headless giants, i.e. that left their heads behind.
There is a great view over the island from the top of Rano Raraku, including view of the impressive Ahu Tongariki.
We also visited Ahu Akivi, row of 7 moai that face sunset (back to sunrise) during spring and autumn equinox. As well as Ahu Nau Nau that is based on the beautiful Anakena beach which is also popular swimming spot.
Then there is Tukuturi, the unusual kneeling moai, as well as number of other impressive Easter Island statues.
As you can see, you need more than day or two to properly explore Easter Island, even if you are only planning to see the most famous moai statues.
We did some hiking every day while we were there, most included visiting some moai sites on the way. Couple were though fairly light hikes e.g. a hike along the north coast and to the top of the highest mountain on the island, Terevaka (507 m).
We attended lovely local dinner and dance show. The food was great. Our favourite was ceviche de pescado, raw tuna marinated with lemon juice. Actually, we hardly ate anything else the whole week.
Traditional Easter Island
Dance show, good fun
We really enjoyed our Easter Island vacation and would love to travel to Easter Island again (find out if Mitch still remembers us).
This tiny island has so much to offer its visitors. In addition to sightseeing and hiking as we mainly did, there are adrenaline-pumping waves for surfers and crystal-clear waters off Motu Nui that are great for diving. While horse riding, is another popular way to explore the island.
You can also relax on a porcelain sand beach or at some of the more upmarket Easter Island hotels.
If you have the opportunity to travel to Easter Island (Rapa Nui), we recommend doing so.
We loved everything about our Easter Island vacation - the sights, the history, the mystic, the nature, the people, the culture, the ambiance, the food, the dogs (and especially one dog).
Top Travel Tips
If you travel to Easter Island you will need good camera with you, this little island is very picturesque. You also need good Camera Bag to protect your camera gear from the elements.
Other useful resources
Wikipedia offers good overview of the history, geology, ecology, culture and other information about travel to Easter Island.