Sun Protection Hats
That Protect Your Skin And Look Good
Sun protection hats play important role in your overall sun protection, i.e. combined with your sun protection clothing and sunscreen. All sun safety tips recommend wearing one as they can reduce your risk of getting skin cancer, sun poisoning, or heatstroke.
It is though not only about sun safety tips. Good sun hat can help to keep you feeling cool and comfortable on hot days.
It can also play an important role in your beauty regimen as one of the biggest causes of premature aging is due to the cumulative damage of the sun over the years. Good sun hat also protects your hair, as hair can get dry, brittle, and cracked from too much sun exposure.
Best Sun Protection Hats - Top Buying Tips
The best sun protection hats, i.e. the ones that give you the maximum sun protection, should have a UPF rating of at least 50 and the hat brim should be no less than 3 inches (7.7 cm). The brim should ideally be angled downwards, i.e. to give you more hours of protection as the sun moves (ascends to descends) during the course of the day.
Waterproof sun protection fabric is also preferable, and for travelling, you will want to be able to pack your sun hat, i.e. not have to wear it on a plane. So look for hats that pack easily.
Buying Sun Protection Hats On-line
Amazon offers the best range of quality good-looking Sun Protection Hats for both sexes, made from sun protection fabric with UPF 50 rating or higher. We have chosen some of our favorite sun protection hats for your convenience.
Tilley Airflo Vented Hat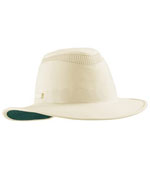 The Tilley Airflow Hats
are unisex sun protective hats that offers similar features as the Western-Style Tilley hat.
The main difference is that this hat has a mesh panel in the crown instead of full mesh crown. This makes it more suitable for people with less hair while still providing good ventilation.
The hat ties on with adjustable, tuck-away cords and has a snap-up 3-inch brim.
The Tilley Airflo vented hat comes with lifetime guarantee. It is highly recommended by customers.
Tilley Outback Hat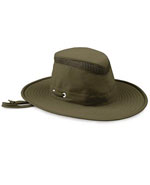 The Tilley Outback Hat
is another great Tilley product. This unisex sun protection hat offers similar features as the previous Tilley hats.
It is very lightweight and handcrafted in strong laminated, waterproof nylon (Tilley Nylamtium). It has the same mesh panel in the crown as the Tilley AIRFLO vented hat but has broader brim at the front.
It also comes with lifetime guarantee and is replaced for free if it ever wears out, shrinks or falls apart. It is even insured against loss for 2 year, i.e. they will replace your hat at 50% of the catalog price.
Sydney Diva Packable Sun Hat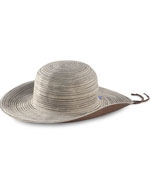 Sidney Diva Packable Sun Hat
is another stylish looking sun protection hat for women. It is made from sun protective fabric with UPF rating of 50+ and the brim is 3¾ wide.
It is stylish and feminine, and comes in beautiful natural colors. It also rolls up easily for packing, making it a great travel companion.
It comes in one size and has a hidden drawstring that adjusts the fit. It is highly recommended by customers.
Ps. For recommended Sun Protection Clothing have a look at the examples on the right hand panel.