Top Travel Tips
Top 10 Christmas Markets
There are so many wonderful Christmas markets held every year around the world, so it is quite an ordeal to choose only ten of them. They are though still very much an European tradition so our top ten xmas markets are all based in Europe... at least this year.
Top Travel Tips top 10 markets in alphabetical order are...
Basel, Switzerland
Basel is the home of the oldest market for Christmas in Switzerland and boasts the longest illuminated Christmas Street in the whole of Europe. The market is in the beautiful historic Old Town and the decorated shops and facades of many buildings add to the magical feel.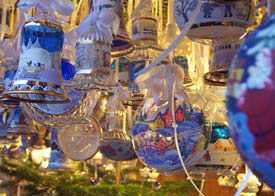 There are over 150 stalls with wide range of seasonal food, drinks and goods, including popular Christmas gifts and irresistible Christmas decorations.
Local crafts and art play important part and you can watch local craftsmen demonstrate their skills. The atmosphere is welcoming and inviting and the people are warm and friendly.
Visiting the market in Basel is kind of like visiting Christmas you read about in storybooks when you were a child.
Brussels, Belgium
Belgium is famous for its cuisine so comes as no surprise that the Brussels market is a great choice for foodies.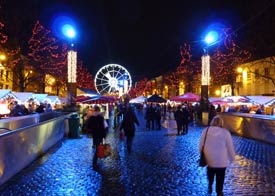 Mulled wine, decadent Belgian chocolates, steaming plates of mussels, delicious French olives, jars of preserved fruits, fun gingerbread shaped like Father Christmas... you get the picture.
There are more than 200 Christmas stalls displaying goods from all over Europe and ice-skating rink for those that want to work up some sweat.
There are Christmas lights and decorations, and street entertainers in abundance. Jugglers, street musicians, and painters perform for the audience under Christmas carols through loudspeakers. Making it all very Christmassy.
Can you get VAT Refund on your Christmas shopping? The markets stalls are unlikely to offer VAT refund but if you visit some high street shops as well you might be able to claim the VAT back, it pays to check it out
Cologne, Germany
Germany knows how to do it were Christmas markets are concerned. Picking just top 10 German xmas markets is even challenging.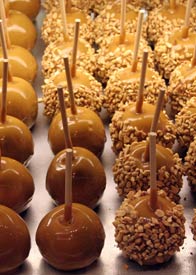 In the end we choose Cologne as our favorite German xmas market but there are so many other German Christmas markets well worth visiting, like Berlin, Nuremberg, Bremen, Dresden ... to name just few.
There are number of xmas markets in Cologne, with over 160 stalls so everyone should find something for his or her liking.
The most famous market is the one in front of the Cologne Cathedral, by many considered the most beautiful Xmas market in Europe.
There is also floating market (MS Wappen) and the child friendly Altermarkt, with a nostalgic children's merry-go-round, puppet theatre, Santa's Grotto and stalls that sell hand-made wooden toys, cotton candy, boiled sweets and gingerbread in all shapes and form.
German xmas markets are great way to get into the Christmas spirit.
Copenhagen, Denmark
If you have not been to the Tivoli in Copenhagen, now you have the perfect excuse.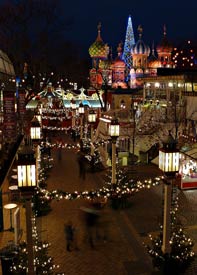 Tivoli Gardens is Europe's oldest amusement park and Tivoli is nothing but magical at Christmas time.
The setting is straight out of Hans Christian Andersen novel with abundance of beautiful Christmas trees and illuminating stalls.
The main lake becomes glamorous outdoor ice skating rink and Father Christmas can easily been found mixing with the crowds. As darkness falls, twinkling lights make the atmosphere dazzling and intoxicating.
Danish food and drink is renowned, as is Danish handcraft and design. Some of the parks rides are open over the festive period, adding to the whole experience.
Tivoli Gardens are always worth a visit, and the weeks before Christmas are no exception.
Krakow, Poland
There are not many Christmas markets in Poland but the main one is located in the fascinating city of Krakow. As unique as the city, this xmas market offers everything a good market should.
There are festive displays, local handicrafts for sale, as well as mulled wine and traditional food, like specialty sausages, cheese, and fruity Polish vodka in abundance.
Visiting Krakow xmas market is very authentic experience and if you want to experience white Christmas market, then Krakow, where snow falls most days during winter, is one of the safest bet.
Prague, Czech Republic
Christmas in Prague is an eventful affair. There are number of markets throughout the city but the biggest and most popular markets are at the Old Town Square and Wenceslas Square.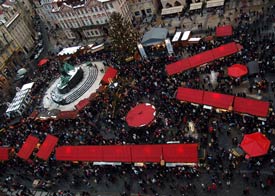 The Prague Christmas markets consist of rows of brightly decorated wooden huts, selling hot food (corn on the cob, sausages and local specialties), hot drinks, and Czech handicrafts.
Popular Christmas gifts include wooden toys, scented candles, handmade jewellery, Christmas tree ornaments, puppets and of course the famous Czech glassware.
This beautiful city is perfect setting for magical market experience. To add the festive spirit, the city hosts a number of cultural events throughout December, e.g. folk displays, concerts, theatre.
Lille, France
France Christmas markets, Marché de Noël, offer great atmosphere and shopping opportunities.
The market in Lille is one of the most popular xmas markets in France. The main square with its Ferris wheel is transformed into winter wonderland with huge illuminated Christmas tree. Traditional decorations, nativity figures, gingerbread, carol singers, concerts... i.e. everything a good Christmas market should have.
Shop windows compete to be the most original, and with abundance of shops, there is something for every taste and every budget - popular Christmas gifts is very easy to find in Lille.
Tallinn, Estonia
The Tallinn market is one of the youngest xmas market in Europe but it is fast becoming one of Europe's favorites.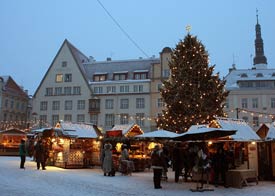 The Tallinn Christmas market is relatively small and low key, at least compared to the more famous European xmas markets.
The surroundings are however as picturesque as it gets, there is definite irresistible chocolate box charm over the place. To top it all, you are almost guaranteed some snow, turning the whole city into true winter wonderland.
The city is therefore popular by romantic couples, enjoying the festive atmosphere and romantic surroundings.
Trento, Italy
Italian Christmas markets, or Mercatino di Natale, are not as big affair as in the German speaking countries in Europe but you can still find good xmas markets throughout Italy.
The Italian stallholders have mouth-watering displays of local food and drink and the usual array of locally manufactured seasonal gift items. Italian xmas markets are also well known for their elaborate crib displays and nativity scenes.
The market in Trento is the home of one of the best Italian markets. The setting is simply breathtaking and the atmosphere is friendly and festive.
Vienna, Austria
Vienna is a beautiful city and the ornate architecture and cobbled streets make a romantic setting for Christmas markets.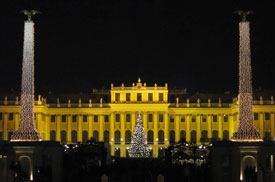 There are around 25 xmas markets held in Vienna every year and most of them start mid November and last until Christmas.
The Town Hall 'Christkindlmarkt' is the largest and one of the best known and most visited Christmas market in Europe.
Other popular xmas markets include Spittelberg, Freyung, Maria Theresien-Platz and further afield, the magnificent market in front of Schönbrunn castle.
Vienna xmas markets are very traditional with wide range of seasonal food, gifts and entertainment on offer. The atmosphere is festive but relaxed and it is easy to understand why Vienna Christmas markets attract millions of visitors each year.
Getting There
For city breaks, it is usually more economical to buy the flights and hotel accommodation together.
BookingWiz is a travel search engine that helps travelers to locate the best deals for each particular travel search. BookingWiz highlights the recommended sites so you can compare their prices, which is very convenient. It also saves you lot of time, i.e. not have to go manually into each website and make new search.
BookingWiz searches and compares well known brands like Expedia, Orbitz, Lastminute, Tripadvisor, Kayak, ebookers, CheapOair as well as some smaller travel providers. You can choose between different airlines and from wide range of hotels in different price brackets.
We recommend trying BookingWiz using the Lowest Price Vacations search box below. In our experience they tend to deliver.
The cities with the most popular Christmas markets tend to be quite busy in the weeks before Christmas. It is therefore recommended to book flight and accommodation sooner rather than later.
Ps. if you are not sure if Christmas markets are for you, see Why Xmas Markets are so popular short winter break.