Canada Ski Vacations
Not Only For Olympic Champions
Canada ski vacations include some of the best ski resorts in the world. Many of them are in British Columbia, like the world known Whistler ski resort. Alberta and Quebec are also home of some the best Canadian ski resorts.
Canada skiing is great due to epic snowfalls, huge verticals, expansive backcountry, diverse terrain, spectacular scenery and a mild winter climate... making Canada an obvious choice for winter sport holidays.
It comes as no surprise either that Canada has twice hosted the winter Olympics, first in Calgary, Alberta in 1988 and then in Vancouver, British Columbia in 2010.
Four Seasons Resort Whistler, Whistler, British Columbia
The Four Seasons Resort Whistler ski resort is located in the beautiful Whistler in British Columbia and is one of North America's top year round mountain resorts.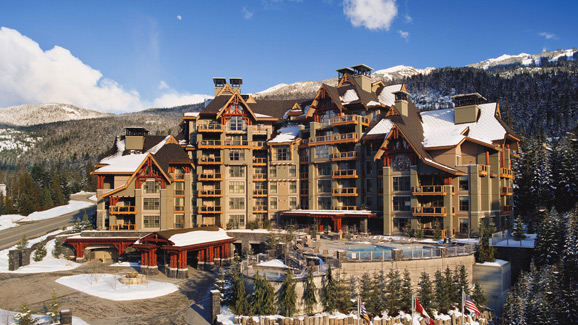 The accommodation is luxurious and the service and amenities exceptional, including superb spa and mountainside gourmet dining. The views are simply breathtaking.
The Four Seasons Resort Whistler ski resort is among the finest Canada ski vacations.
There is easy access from the Four Seasons Resort Whistler ski resort to the ski slopes of Whistler Blackcomb, site of the 2010 Olympic Winter Games. Nestled in the heart of the Coast Mountains of British Columbia, Whistler ski resort is located just 120 km. north of Vancouver.
Whistler Blackcomb is famous for its challenging terrain, offering the greatest vertical drop in North America. With over 8,100 acres of skiable area, 12 alpine bowls and more than 200 runs, Whistler is every skiers paradise.
Tweedsmuir Park Lodge, Bella Coola, British Columbia
Tweedsmuir Park Lodge is not your typical luxury ski vacation resort and Bella Coola is not your typical ski Canada resort... this is Canada ski vacations at its best. Welcome to the World of Heli-Skiing.
Tweedsmuir Park Lodge is set on 60 acres of private land within the vast wilderness of British Columbia's largest protected park and is the ideal setting for the ultimate wilderness adventures and experiences, including grizzly bear watching (before the snows sets in) and of course heli-skiing, the ultimate skiing experience.
If you are looking for something unforgettable, the Tweedsmuir Park Lodge vacation might be exactly what you are looking for.
Manoir Hovey, North Hatley
Luxury Canadian ski resorts include Manoir Hovey, which located on the shores of Lake Massawippi, just 75 minutes east of Montreal.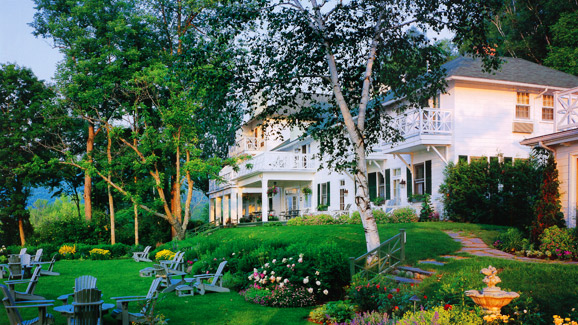 There are five nearby ski resorts for alpine skiing but North Hatley is also popular for cross-country skiing and ice fishing.
The Manoir Hovey even offers private lakeside ice skating rink making stay there a true winter adventure. There is also sleigh rides and snowshoeing available.
The rooms are individually appointed and most have lake views. They vary from small cosy rooms to spacious luxurious rooms with fireplaces, large Jacuzzi tubs, canopy beds and private lakeside balconies.
Manoir Hovey is not only about Canada skiing, it is also about experiencing range of outdoor winter activities in picturesque settings.
Top Canada Ski Vacations Travel Tips
Luxury tends to come at a price. This is why Luxury Link travel auctions are so popular. You can bid on luxury ski vacations and if you are successful, you could secure luxury deals for the fraction of the retail price.
Travel auctions usually start at up to 65% off retail prices. Auctions are nonrefundable and placing a bid is a commitment to purchase the package if your bid is accepted.
Luxury Link also offers fixed price Buy Now deals that can still secure you a great discount from the retail price.
Luxury Link offers all the accommodation mentioned in this article as well as hundreds of others.