Ultimate Beach Fun
Top 10 Beach Games And Activities
Most of us define beach fun similarly. It is relaxing in the warm sun, taking a refreshing dip in the sea, enjoying good food and cool drinks, entertaining ourselves with our favorite gadgets or good book, enjoying good company and playing beach games.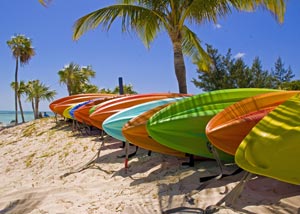 Playing games is of course vital if you are travelling with kids, but most adults enjoy some kind of beach games too.
Physical activity, like beach volleyball or other beach ball game can make nice break from relaxing.
We have listed our top 10 favorite beach games and activities. Children and adults alike should enjoy playing most of them.
1. Snorkeling
Beach means sand and sea and you can play on or in both. Snorkeling is something everyone should try at least once... it is another amazing world down there.
You can snorkel close to the beach but it is even more spectacular if you go on special snorkeling trips by boat. It is a highly recommended vacation activity.
You can often rent snorkeling gear but you might want to own your own gear though, at least the mask and the snorkel (due to hygienic reasons).
This Underwater Digital Camera Mask

is an amazing little gadget. It has built in 8MP camera that allows you to take photos and videos underwater. This is really a beach fun underwater. Perfect surprise gift.
2. Floating Devices
When you not with your head underwater you might like to enjoy swimming in the sea with some kind of a floating devices. Inflatable mattresses are the obvious choice, but there are more floating devices available.
Click Here

for inspirations, just make sure if you want to take your floating device to the beach that is suitable for ocean as well as pools and lakes.
3. Surfing
Surfing

is great sport and fabulous beach fun. It is not easy sport though and takes lot of practice to make perfect. However, if you like physical activities and going to the beach then you might want to give it ago.
4. Paddleboat
Paddleboats are another way to have fun. You can get various Inflatable

versions, which is easy to pack for your beach vacation. Inflatable kayaks and rowing boats can make an excellent choice for short excursions.
There is also wide range of more enduring paddleboats available, suitable for longer excursions. You would however need to be travelling by car in order to take them with you on your beach vacation.
5. Stand-Up Paddleboards
Stand-up paddleboards are the latest way to have fun on water and they are rising quickly in popularity.
They give rigorous yet comfortable workout for users of any skill level while gliding on the water's surface.
The Sevylor Samoa Stand-Up Paddleboard

is inflatable and the board and all of the accessories fit into the durable, dry backpack included for easy, lightweight transport.
6. Building Sand Castle
What is beach fun without building a Sand Castle

?
Granted, you ideally need a kid to be able to enjoy your castle making without dubious stares from strangers... and the kids will love to give you a hand.
7. Beach Volleyball
Beach volleyball is for most of us one of the first mental pictures that come in mind when we think of beach fun. What do you need for a game of beach volleyball... aside from smart beachwear?
Well, you do need Beach Volleyball

and someone to play it with, but that is usually not much of a problem. There seems always to be someone close by happy to join in.
8. Beach Soccer
Another popular beach game is beach soccer. Like beach volley ball you don't need much, but you do need good Beach Soccer Ball

and someone to play with.
You might also want to wear proper footwear when playing beach soccer, flip-flops are no good, and playing barefoot is not advisable if you are not used to it (the sand can also be very hot).
9. Treasure Hunt
How about going on a treasure hunt, you might be surprised at what you will find.
The Garrett Ace Metal Detector

is light and easy to carry, but best of all it is great for finding coins and other metals at the beach.
The kids are likely to love looking for hidden gems, and you might even enjoy joining in this beach fun game.
10. Beach Party
It's beach party time... What do you need for a great beach party? Well, first you will need some great company. If you haven't brought it with you then there are few vacations that beat beach vacation when it comes to making new friends.
However, there is no beach party without some food and drinks.
For the ultimate beach party bring your Portable Barbeque

and Cooler
...

and your party is almost sure to be a guaranteed hit. Especially if you provide some music as well, you could use your MP Player with Portable Speakers to get everyone dancing..
Good beach party is the ultimate beach fun... no matter what age you are.
Buy Your Swimwear Online
It is easy to buy your perfect ladies swimwear online. Check our Beach Shop and browse our selected range of great bikinis from leading online retailers such as Swimspot, Swimsuitsforall and Cooltan to name few.
In our beach shop you can browse for large range of beach wear and see the current prices.
If you prefer to shop via Amazon, why not visit our Amazon US or Amazon UK stores. Just click on the country flags below and browse or search for the clothes you needs.